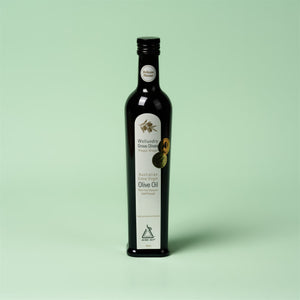 Wollundry Grove Australian Extra Virgin Olive Oil's popularity comes down to its incredible taste, featuring:
 a medium to intense fruity oil varying with seasonal conditions
a complex aroma
olive freshness within a distinct herbaceous flavour
a balance of vegetal bitterness and spiciness.
A bite underlies its structure, revealing a significant presence of phenols. This gives the oil its flavour and extraordinary health properties.
 Our natural resources and careful extraction process consistently produces unique, quality products. The result is a complex, pleasing oil that leaves the palate fresh and clean once the flavours have dissipated.